What is the Gitanyow Reconciliation Trail project?
The Gitanyow Reconciliation Trail Project is a vision for a year-round hiking, riding and sledding route that follows and restores the historical grease trail – a 180 km trail and cabin system between Kitwancool and Stewart. The idea is to have community-built cabins along the trail, with cache pits, smokehouses, garden spaces, outdoor kitchen areas and signage.
This vision is grounded in strengthening Gwelx ye'enst – our rights to protect and sustain the land for future generations. The ultimate goal is to support Gitxsan eco-health, to get back to the Lax'yip.
Why are we doing this?
We know that being on the land is key to Gitanyow peoples' wellness and healing in all its forms, whether mental, spiritual, emotional or physical. The late Simogit Sindihl said: "every forest service road is our trapline. My mother watched as our cabins were destroyed and we were never allowed to return" – it is time we return.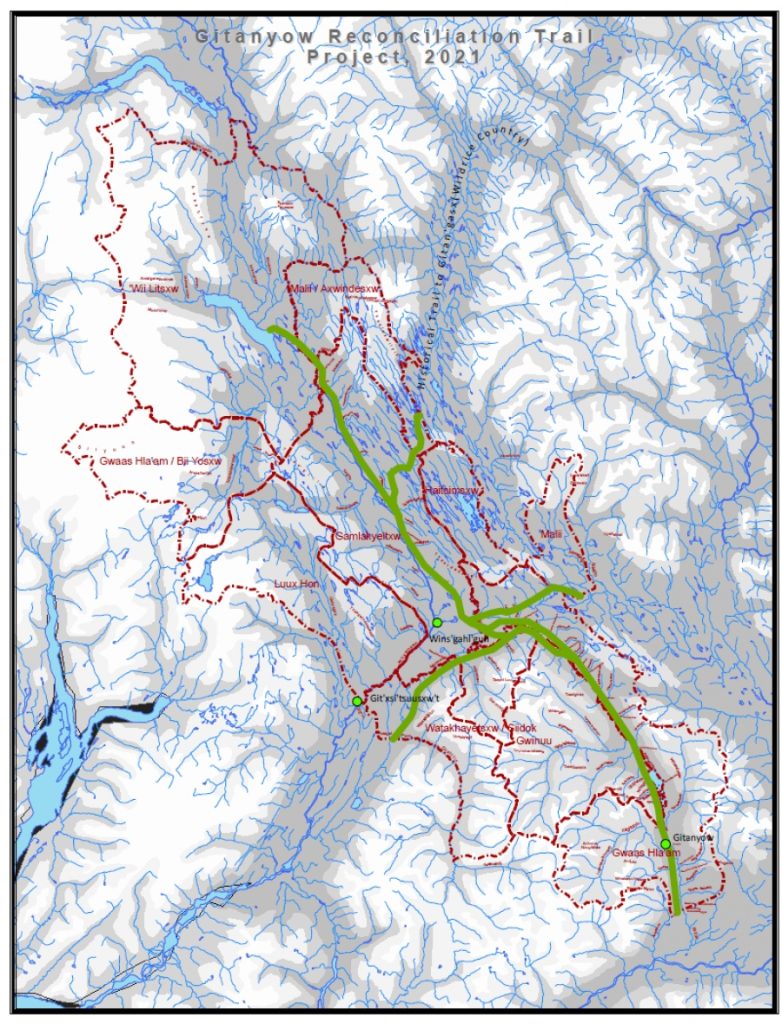 Where did the idea for a Reconciliation Trail come from?
Reconciliation is about restoration, and this project is focused on restoring the transportation corridors of our
ancestors so this route that was used for thousands of years can be used again. We believe it will provide a powerful experience for everyone who uses it, offering a potential way to practice Gitanyow protocols and share our worldview with others in an immersive way.
The idea was also inspired by other former trade routes in BC that have become popular hiking trails, like the West Coast Trail & North Coast Trail. These are Nuu chah nulth Nation trails that now generate income for the Crown. There is also the Nuxhalk-Carrier Grease Trail (also known as the Alexander MacKenzie Heritage Trail) in central BC.
Internationally, inspiration was drawn from Culture Routes Society in Turkey, an non-profit organization that maintains long distance walking routes, markets these Turkish culture routes and helps villagers along the routes benefit from them.
What's next?
This project is in early stages. There is a lot of work that needs to be done this year, including community engagement to hear about ideas and feedback on the project's direction, and looking at the route and where the cabins would go.
Stay in touch
To learn more about the Gitanyow Reconciliation Trail Project and get updates, please e-mail [email protected]